Tall Hats and Tall Tales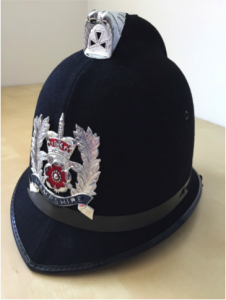 After thirty years of experience as a police officer, then ten years as a life coach, I have plenty of stories to share with you. I have worked with a variety of people, from the Lords of Highclere Castle (Downton Abbey) to the homeless in city centres. I can describe what it was like to make decisions in life threatening situations to sitting quietly, talking as one human being to another, when the  'other' was an armed robber. I'll explain which incidents moved me, which made me laugh and how lessons I learned translated into everyday life.
My talks last about 45 minutes and I allow another thirty minutes for questions and answers at the end. I can tailor my talk to the interests of your group and speak more about what motivated me and/or how trauma and years of punishing shift work taught me what wellbeing really is.
I've talked to a wide variety of groups from Universities, Schools, the R.A.F., U3A, W.I. Groups and Police Clubs in America.
I am a 'stand alone' speaker and require no equipment.
Testimonials
"Just a short message to thank you for the terrific talk this morning! It's so lovely to have a proper speaker – so many speakers have obviously not had coaching on how to address an audience properly so you get all the 'um's' and 'er's' and dropping of voice etc etc. But none of that with you, which was so refreshing.
I feel sure that everyone took something away for thought as well as being entertained – you're so easy to listen to."
Sue Tranter U3A Salisbury
"He gave an outstanding discussion and all members enjoyed his manner and humour in his presentation. We were all impressed by Sergeant Palmer and of course enjoyed his speech, somewhat different than our Southern U.S. speech."
Dr Richard L. Parsons
Fraternal Order of Police, Fredericksburg, Virginia
Call me on 01264 860899 or 07941 563726, or send a message.